The Saint Gervais organ : the Couperins
Armand-Louis Couperin
(1727 - 1789)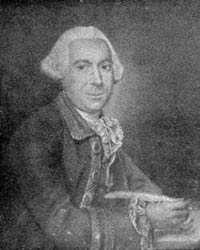 Nicolas Couperin's son and François' cousin, he was provided his musical education from his father, like the other members of the family. When Nicolas died in 1748 , he succeeded him to Saint Gervais; he was then twenty one years old and was already a recognized virtuoso.
In 1752 he married Elisabeth Blanchet, the daughter of the famous harpsichord maker, and thus got a relative well-off. His library, unusual for a musician, gives evidence of his large culture and its curiosity.
However, his works are victims of too much ease to follow the fashions of that time and they did not survive him.
He accumulated many posts of organist and then he owed, as it was usual, be frequently replaced by one of his three children, who all played the organ.
Armand-Louis was killed a few months before the French Revolution in a traffic accident by going from the Sainte-Chapelle to Saint Gervais.